Jason Gegere reaches the top of Volcán Acatenango at 5:00 am just as the sun begins the rise. Acatenago lies next to Volcán Fuego, which an active volcano that erupts constantly throughout the day and night.
A man lifts his son up in the air at an LGBT parade on the beach in Uvita, Costa Rica, during Envision Festival on March 2, 2019. Thousands gathered on the beach celebrating love and community as people danced, sang and hugged during sunset.
A local Jordanian boy gets ready to ride his donkey on a hot day in Petra, Jordan, on June 8, 2016. Petra is an ancient historical city that extends over 20 miles including cave tombs, memorials and monuments.
View from the back of a tuk tuk in San Pedro La Laguna, Guatemala. Tuk tuks are a common form of transportation in Guatemala. They are very convenient as they can be found on almost every street and they can fit through small alleyways.
Jason Gegere hands me a cookie while on the trail hiking Acatenango the third tallest volcano in Guatemala standing 3,976 m (13,045 ft).
Nicole LaPorte relaxes in a river outside of San Lucas Toliman, Guatemala, with friends during a weekend camping trip.
Pablo DI Paola balances a stick on his finger as he enjoys the sunset in Iztapa, Guatemala. Iztapa is a beach town located along the Pacific Ocean, that has black sand beaches.
Jordanian guards pose in front of a canyon in Petra, Jordan, on June 8, 2016. This ancient city is well known for being carved into red desert cliffs and for the unique water conduit system.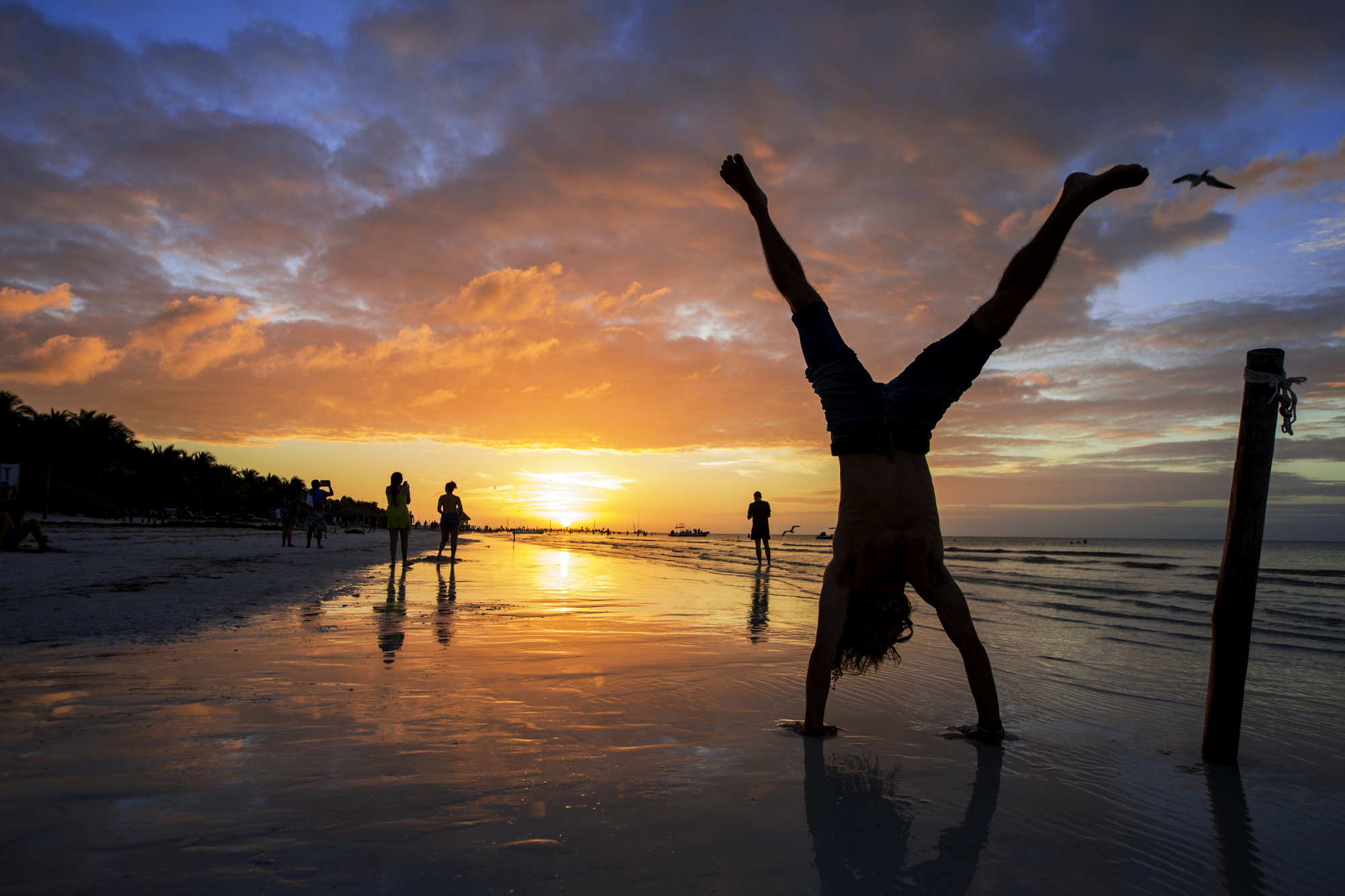 Jason Gegere does a handstand as the sun sets in Isla Holbox, an island north of Mexico's Yucatán Peninsula, on December 29, 2018.
On a beautiful sunny day, Heidi Ver Kuilen poses in front of the Love Bistro Restaurant in San Marcos La Laguna, Guatemala.
Victoria sits on the edge of Hierve el Agua, just outside of Oaxaca, Mexico, on October 30, 2018. Hierve el Agua is a set of natural rock formations in the that resemble cascades of water. These formations are created by fresh water springs, whose water is over-saturated with calcium carbonate and other minerals.
Scene from a meat market in Oaxaca, Mexico, on October 29, 2018.
Nicolas, is a hiking guide that takes visitor up Volcán San Pedro, in San Pedro, Guatemala. Nicolas is 65-years-old and on average hikes this volcano four times a week.
A traveler does a cartwheel on a private beach in Agua Escondida, Guatemala.
Megan Gafford, a 27-year-old installation artist, poses behind her artwork, titled Hormesis, on Saturday, March 5, 2016. Gafford, a University of Colorado Boulder graduate student, encorperates science into each of her pieces by using natural materials such as uranium ore. Gafford's installation will be exhibited in the University of Colorado Boulder Art Museum on Friday, April 1, 2016.